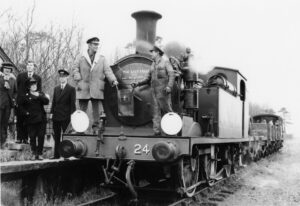 The Last Train
Adult: £10.00
Child (5-17 years): £5.00
Members: £7.50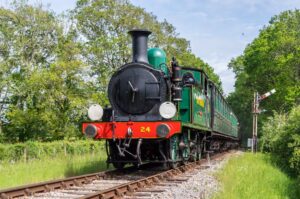 2022 Trains & Events
Adult: £16.50
Child (5-17 years): £8.25
Infants (0-4 years): Free
Family (2 Adults & 3 children: £45.00
Members: Free
IWSR members, season ticket holders, HRA pass holders and passengers with staff travel cards can book tickets and reserve seats online. Please ensure that you present your relevant membership card or passes at the booking office.
Frequently Asked Questions
DO I NEED TO PRE-BOOK?
Online booking is always recommended – tickets are cheaper too.
Book online to reserve your seats. If you pre-book as a group of 4 or more you'll always have your own compartment.
Seats in unreserved compartments are available at the booking office.
CAN DOGS TRAVEL ON THE TRAIN?
Yes, well-behaved dogs are welcome on all our trains and travel free of charge.
WHERE DOES THE TRAIN START?
All trains start from our main station at Havenstreet
It is also possible to join the train at Wootton, Smallbrook Junction and Ashey stations. Please note that there is no road or footpath access to Smallbrook Junction station.
HELP, I'VE BOOKED ONLINE BUT NOT RECEIVED MY TICKETS, OR BOOKING CONFIRMATION – WHAT DO I DO?
We won't send your tickets in advance. You'll just need your 5-digit reference number – the staff at the booking office will use this to issue your ticket and seat reservations
Occasionally our confirmation emails get blocked (particularly to Hotmail addresses) or end up in 'junk' folders. Don't panic if you don't have a confirmation – the team at our booking office will be able to find your booking.
WHAT ABOUT VISITORS WITH ADDITIONAL NEEDS OR RESTRICTED MOBILITY?
A wheelchair accessible carriage will be part of every train. Please book online, then either call us on 01983 882204 or email us at info@iwsteamrailway.co.uk so that we can reserve seats in this carriage.
See our website for further information about accessibility HERE.
Please see our Conditions of Booking