This event has been postponed, we aim to reschedule this event in the Autumn.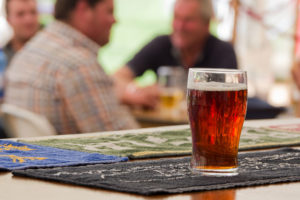 What better way to kick off the weekend than with a real ale festival? With the May bank holiday being moved from Monday to a Friday, due to VE Day celebrations, it's sure to be a VE (very exciting) few days.
Choose from a huge selection of real ales, there are even a few ciders for those with a sweeter tooth. You'll have the opportunity to try local brews from Yates', Goddards and Island Brewery alongside ales from Yorkshire, Somerset and more.
The Isle of Wight Real Ale Festival is a whole Island affair with many local businesses sponsoring a barrel of beer.
Entry to the festival is FREE and the bar opens from 11am until 7pm on Friday and Saturday and from 11am until 5pm on Sunday. If you wish to board the steam train, usual operating day fares apply.
Keeping you entertained throughout the day will be live music, playing from 1pm to 5pm each day.
Friday - TBC
Saturday - Woody
Sunday - Knucklehead
On Friday 8th, Saturday 9th & Sunday 10th May there is a RED Timetable in operation with an extended service Friday & Saturday only. Click HERE to see the extended service timetable or view below. Please note this may be subject to change.