Trains running on the line:
---
Somewhen Storytelling Festival
A celebration of traditional storytelling, spoken tales and local stories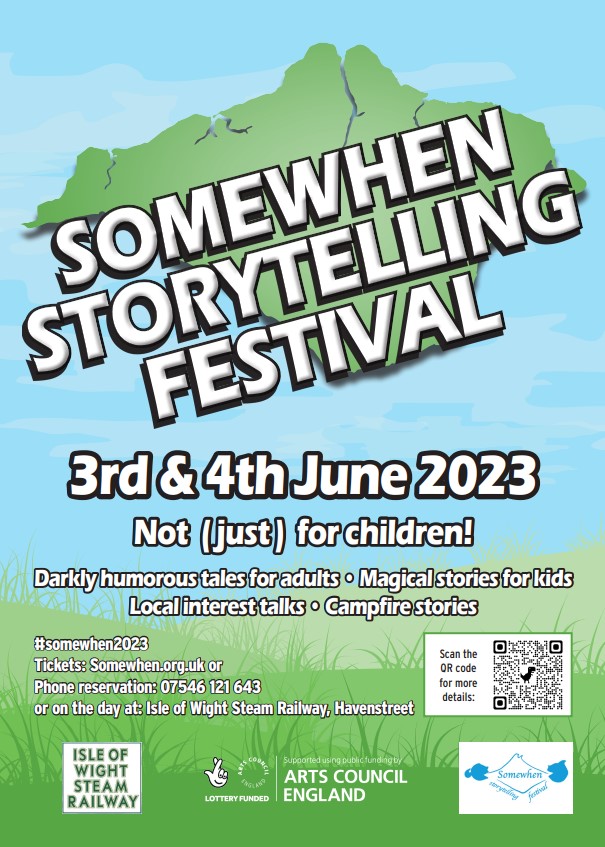 Join us for the first Somewhen Storytelling Festival, promoted by the Island Storytellers, at the Isle of Wight Steam Railway in Havenstreet.
Featuring two days of magical tales, shadow puppetry performances, story walks, musical interludes, local interest talks, and headline acts for both children and adults.
Performances are programmed on Saturday 3rd from 10.30am to 10pm and Sunday 4th June from 10.30-6pm
Saturday evening ( for over 16's only) will be headlined by Nell Phoenix, an unforgettable storyteller who has toured the world from Soho to Sydney telling traditional tales for grown ups with her unique brand of energy and wit. Her session will be followed by a barn dance with the Caulkheads Ceilidh band, and stories around a campfire.
With ticketed stages as well as a rich programme of free pop-up tales in the Train Story, this is a great opportunity to hear some of the world's greatest tales, and biggest lies, as traditionally told by a wide range of storytellers from the island and beyond.
Entry to the festival stages is by tickets available in advance from the festival website, by phone reservation on 07546 121 643, or at Havenstreet on the day.
If you buy a ticket to the festival events this automatically includes entry to Havenstreet station. If you wish to board the steam train, usual operating day fares apply as a separate purchase.

Highlights include:
Nell Phoenix - Nell has been telling tales and performing professionally since graduating from Goldsmiths College, touring all around the world – from the Blackpool Grand to the Sydney Opera House.

Raven Tales - Stories told with the aid of shadow puppets.

Rhubarb Theatre - Four shows including 'The Book-Ends' - Full of music, comedy and general silliness, Rhubarb Theatre returns with this fun and fantastical festival show that becomes – quite literally – out of this world!

Verging On Nonsense - Tony "Monty" Hirst tells a set of tales connected by the strangest of circumstances…

Tis Tales - Previously performed at Ventnor Fringe and the Isle of Wight Literary Festival, Tis Tales' one hour show Island Tales is a celebration of stories from islands real and imaginary, including traditional tales from our very own Isle of Wight.

AJ Wells - Exporting from the Island to the London Underground

Ghost Tales of the Isle of Wight with Marc Tuckey

Tell me about Poo - Featuring quirkiness and family-friendly humour, the National Poo Museum break through the poo taboo to explore the world's stickiest subject with us, and change how you think about this most astonishing substance…