Sorry, this event has now been cancelled.
Our maiden voyage into SteamPunk proved so popular we thought we'd do it all again in 2020. If you have a love for all things Victoriania then this is sure to be the event for you.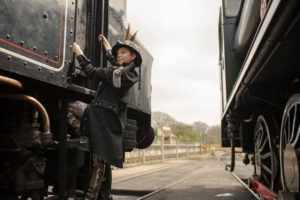 Set in our main field you can wander around stalls and pick up the perfect outfit for the event, maybe even have a go at making your very own SteamPunk'd inspired hat.
There's live music and entertainment across the weekend from Railway regular, Greg Chapman, Mr Alexander's Travelling Show, Icabod and the SteamPunk Submarine plus Wight Hot Pipes.
Finish your day with a trip aboard one of our steam trains, where you will be well and truly transported back to a Victorian era.
On Saturday 20th June we are running an evening train alongside a real ale bar and a selection of food.
We also have evening entertainment from Captain of the Lost Waves.
Usual operating day fares apply.