An ambitious project to restore a train of LCDR carriages
History
As part of its modernisation program, the Southern Railway transferred around forty London, Chatham and Dover Railway bogie coaches to the Isle of Wight in the early 1930s. They were to be a mainstay of services for the next fifteen years and were usually coupled into semi-permanent sets.
The LCDR carriages were withdrawn in the 1940s and replaced with longer carriages built by the SECR and LBSCR. The bodies were sold off to become beach bungalows, beach huts and farm stores. Fortunately a number survived and were subsequently rescued by volunteers at the Isle of Wight Steam Railway.

The Project
As part of our strategic Carriage Policy, we see the eventual need for a second set of bogie carriages. The restoration of 4115 is the first stage in our exciting plan to recreate a set of LCDR coaches. Fortunately a number of these carriages survive and are in undercover storage awaiting restoration. Ultimately we envisage a complete train comprising four LCDR bogie carriages.
4115 Brake Third. Complete body now being restored
4116 Brake Third. Complete body in store awaiting restoration
2418 Full Third. When withdrawn this carriage was cut into two halves, both of which are in store awaiting restoration
2424 & 2436, Sections of these carriages are in store and will be used as the basis for a restored composite carriage with both Third and First class compartments.
This project to recreate a whole train will fill a significant gap in our collection and create an asset of national importance since there are currently no restored LCDR bogie carriages anywhere.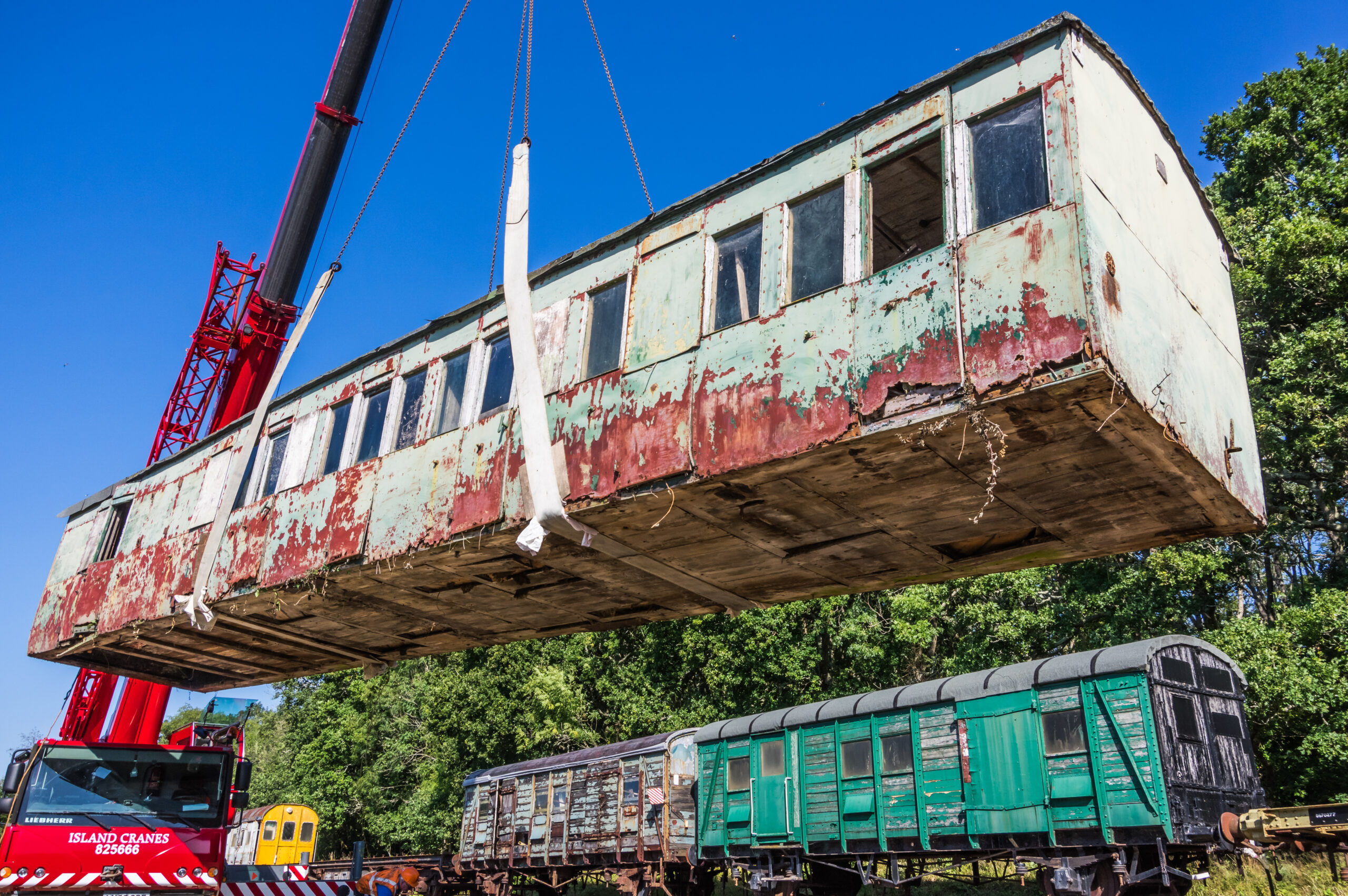 Carriage 4115
No 4115, built in 1898 by Brown, Marshall of Birmingham, was moved to the Island in 1933. During its service here its wood panelled exterior was covered over with steel. After withdrawal in 1948 it was moved to Ash Hill Farm near Chale where it was used as a farm store and animal shelter. 4115 was the first carriage body to be rescued by the Isle of Wight Steam Railway, being moved to Havenstreet in 1975.
4115 will be the first to be restored and will initially run as part of our existing set of bogie carriages. It will be adapted to provide disabled accommodation. We anticipate this work will take around 4 years (providing sufficient funds can be raised).
PROGRESS SO FAR
Work commenced in Autumn 2020 when the carriage was brought into our workshop for stripping down. When the decaying steel cladding was removed, the wooden frame was found to be in relatively good condition. The LCDR had a reputation for their well-built carriages, and this has helped it survive for so long. The main damage was to the large timbers around the base which suffered from being on the wet ground for so long. By early 2023 this repair work was almost complete.
In 2021 work started on adapting the donor underframe which needed to be shortened to accommodate the 45ft carriage. This is now almost complete, and we anticipate being able to attach the wooden body to its underframe by mid-2023.
Significant progress has been made with the interior of the carriage and by early 2023 all the floors and compartment partitions had been fitted.  Eight of the sixteen doors have also been restored and re-hung. This carriage is being adapted to include a wheelchair accessible compartment and a doorway has been created permitting access through the double doors in the luggage area.  This has been carefully planned to keep the exterior appearance of the vehicle unchanged.
The ceilings of all the compartments have been cleaned and received their first coat of paint, as have the compartment partitions.
WHAT NEXT?
A key milestone in 2023 will see the body fitted to its underframe.  Once this is done, we can start to fit the new galvanised metal sheeting to the outside, and we will continue to repair and refit doors. Interior refurbishment is well under way but there is still much to be done with the construction of seats, upholstery and interior fittings.
How can you Help?
Make a donation
The restoration of 4115 is expected to cost £70,000. However, the Railway is unable to fund this because of other commitments and the recent Covid crisis. We are therefore launching an appeal to finance this exciting and unique project.
Donate online: see HERE
Send a donation to the Isle of Wight Steam Railway, The Railway Station, Havenstreet, Isle of Wight, PO33 4DS
Sponsor a Part
Please sponsor one or more components and help us restore LCDR No 4115.
Sponsor a part via our website: see HERE
5 x Restoration of a complete passenger compartment £3,000
2 x Main timbers £2,000
16 x Doors £500
16 x Droplight windows £150
36 x Window glass £60
36 x Picture frames £30
Get involved as a Volunteer
Volunteers are the very lifeblood of the Isle of Wight Steam Railway, and this certainly applies in our Carriage & Wagon workshop. We have plenty of jobs for metal-workers, carpenters, glaziers, painters and upholsterers. However, you certainly don't need any specific skills – there's work for almost anyone.
Please see our volunteers page if you're inspired to get involved.