The Island Rail News is a bright and glossy magazine published four times each year and is distributed by post to all members mid February, mid May, mid August and mid November. In addition, the magazine is available to purchase for £3.50 from the Railway Shop at Havenstreet station and selected newsagents across the Island.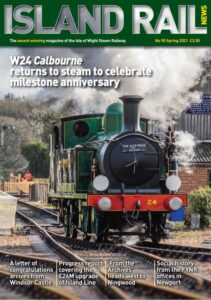 The magazine is produced by a team of dedicated Isle of Wight Steam Railway volunteers who diligently collect news stories and items of interest from across all areas and departments of the steam railway. Each edition also contains articles about the history of the island's railways.
To receive a quarterly copy as soon as it is produced, please become a member of the Isle of Wight Steam Railway by clicking on this LINK.
Enjoy a FREE sample edition here: IRN Issue 90 – Spring 2021
Award winning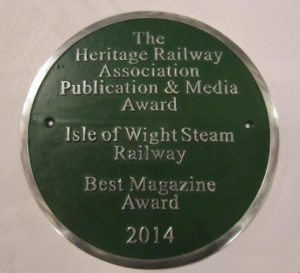 In 2015 the Islands Rail News magazine was awarded by the Heritage Railway Association a plaque for the "2014 Best Preserved Railway Magazine". This award recognises the quality and information provided through the magazine and was achieved in competition with all major mainland heritage railways.
Membership
The only way to secure a copy of the magazine as soon as it is produced is to become a member. Once signed up the magazine will be delivered to your door and is included in the cost of membership. Please follow the link HERE for the membership page.