Built: 1876
Wheel arrangement: 0-6-0 T
Current status: Under overhaul, expected back in service in 2023 or 2024.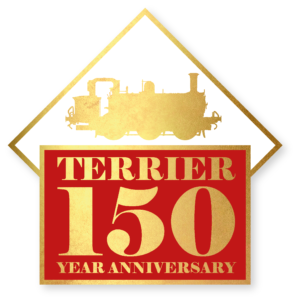 A member of the famous 'Terrier' class, designed by William Stroudley. Built in 1876 at the Brighton works of the London, Brighton and South Coast Railway she was originally numbered 46, carried the name 'Newington' and was based at Battersea in South London. In 1903 she was purchased by the London and South Western Railway to operate on the Lyme Regis branch line. In 1913 she was hired by the Freshwater, Yarmouth and Newport Railway and is believed to have arrived on the Isle of Wight on 25 June in the company of seven carriages.
Purchase of the locomotive was completed by 1917 when she was repainted in a bright green livery and given the number 2. Passing to the ownership of the Southern Railway, acquiring the name 'Freshwater' and being renumbered W8 she continued to serve the Island's railways well until her next owner, British Railways, had her transferred back to the Mainland on 4 May 1949.
The majority of her British Railways service was spent working the Hayling Island branch until withdrawal on 9 November 1963. She was then acquired by the Sadler Railcar Co., spending three years based at Droxford, Hampshire on the former Meon Valley line. Purchase by Brickwoods, the former Portsmouth brewery, was followed by a spell as a pub sign outside the Hayling Billy public house on Hayling Island.
In 1979 the Wight Locomotive Society negotiated an agreement with Brickwoods' successors, Whitbread Wessex Ltd, which enabled W8 to return to the Island on 25 June that year. A rapid overhaul culminated in a triumphant return to steam on 21 June 1981. 'Freshwater' has been a stalwart member of the locomotive fleet, performing with ease the task that she was designed for so long ago. In 1998 the Isle of Wight Steam Railway demonstrated its commitment to the operation of steam into the 21st century by commissioning a brand new boiler for No 8, built at a cost of £35,000 by Israel Newton of Bradford.
Click HERE to see the next locomotive history. Click HERE to return to the main locomotives page.