Built: 1950
Wheel arrangement: 2-6-0
Current status: In service at the East Somerset Railway
46447 is one of 128 of this class to be built to a design by H. G. Ivatt, Chief Mechanical Engineer of the London, Midland and Scottish Railway. Twenty were built before nationalisation of the railways and a further 108 were built by British Railways between 1948 and 1953.
Designed for work on secondary and branch line duties they incorporated the labour-saving features of their sister engines, the Ivatt Class 2 2-6-2 tanks. The class were popular with footplate crews and despite having coupled wheels of only 5-ft diameter were easily capable of 70mph.
Built in 1950 at Crewe, 46447 was first allocated to Crewe North shed. After only two months it was moved to Workington to join other members of the class in displacing the ageing LNWR Webb 'Cauliflower' 0-6-0s from the Penrith area. In December 1959 46447 left the Lake District for Springs Branch, Wigan, where it remained until June 1960 when it was transferred to Llandudno Junction, moving on again to Bangor in September.
A year later 46447 was allocated to Nuneaton and then on to Derby in May 1963. From Derby it moved back to Springs Branch in May 1964 and in December 1966 was withdrawn from service and sold to Woodham Brothers of Barry, South Wales, for scrap.
46447 was purchased from Woodhams by the Ivatt Locomotive Trust and moved to Quainton Road, Buckinghamshire, on 7th June 1972.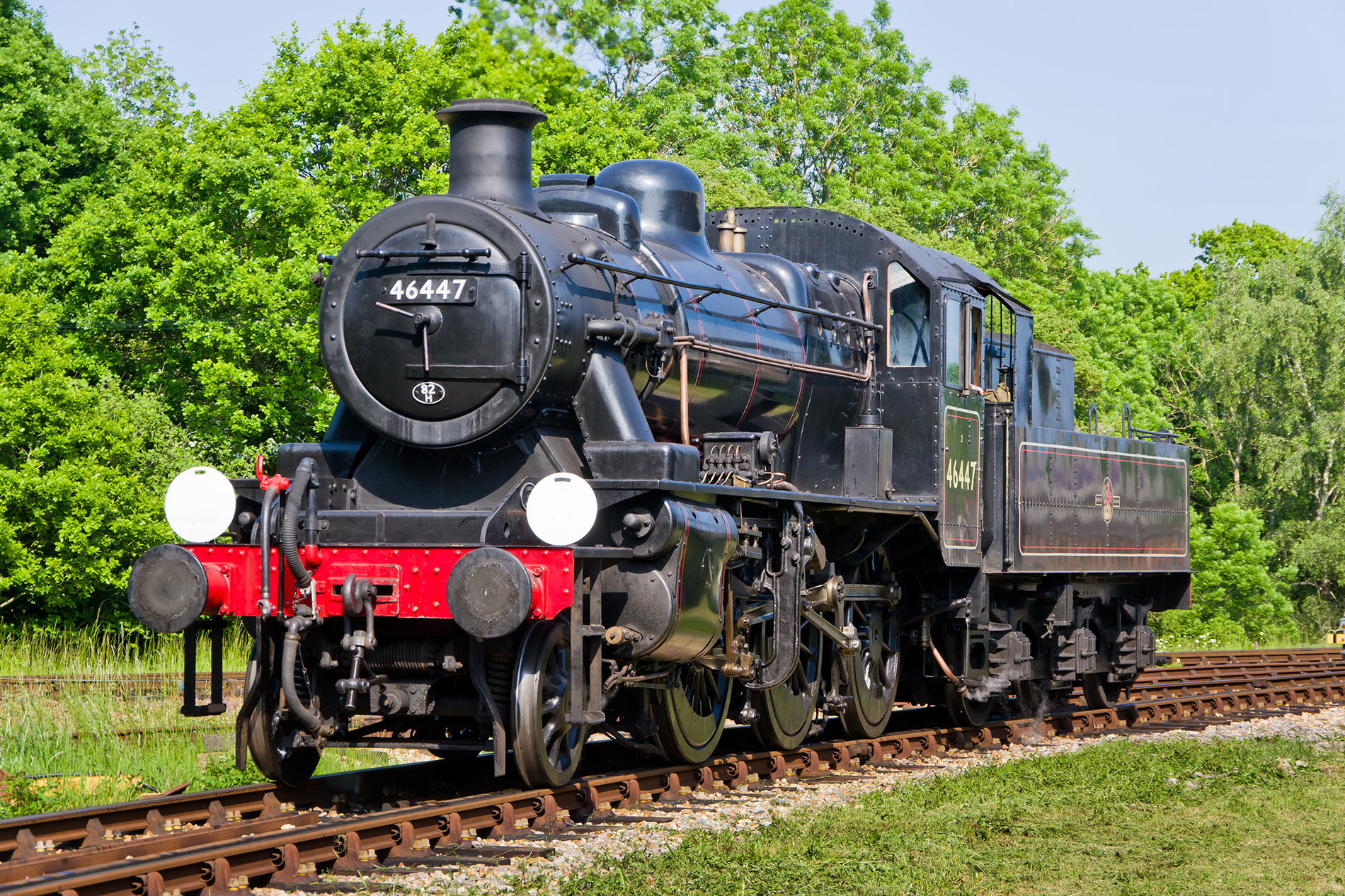 Despite missing a great many parts from its time at Barry and with a boiler in poor condition, restoration was started. The Ivatt Locomotive Trust subsequently decided that 46447's future was to be on the Isle of Wight Steam Railway and, along with fellow Ivatts 41313 and 41298. 46447 was transferred to Havenstreet during October 2008 where, after initial conservation work was completed, she was stored pending restoration as a static exhibit.
In 2012 it was announced that, in a deal that also saw the Isle of Wight Steam Railway acquire London, Brighton and South Coast Railway E1 0-6-0T No.110 from an East Somerset Railway based private owner, 46447 was to be moved to the East Somerset Railway's Cranmore base with an agreement that it will be restored to running order.
46447 left Havenstreet for Somerset in October 2012. Overhaul completed, 46447 hauled it's first passenger train in preservation on 26th October 2014 and is now on long term loan to the East Somerset Railway.
Click HERE to see the next locomotive history. Click HERE to return to the main locomotives page.