Recreating an 1864 train – the Oldbury carriage project
In 1864, the Isle of Wight Railway bought a number of coaches from the Oldbury Railway Carriage and Wagon Company for the opening of the Ryde to Shanklin line. These were in service until the early years of the 20th century. Remarkably the bodies of several have survived, and our long-term aim is to restore them to form a complete train.
Carriage 10
Carriage No. 10 is a 3-compartment composite, one of 24 built in 1864 for the Ryde to Shanklin line. It has a large central First Class compartment flanked by two Second Class compartments.
The roof profile is almost flat and lighting was by oil lamp. The carriage survived to be fitted with electric lights and was withdrawn in 1923. A new life as a garden chalet at Bembridge followed. It was donated to the Wight Locomotive Society and was moved to Havenstreet in 1983.
In 2017 it was restored as part of the Great Rail Restorations TV series hosted by broadcaster Peter Snow, and aired on Channel 4. Unlike our other 4-wheel carriages it now sits on a new wooden underframe. Our Oldbury coach is usually seen in our Train Story Discovery Centre, but runs on the line during special events.
Carriage 21
The second Oldbury coach, No 21, entered our Carriage & Wagon workshop for restoration in 2019. After withdrawal from passenger service, the body was sold and became a garden shed near Yarmouth before being donated to the Railway in 1980. This carriage has three First Class compartments, and when complete, will be a splendid addition to our fleet.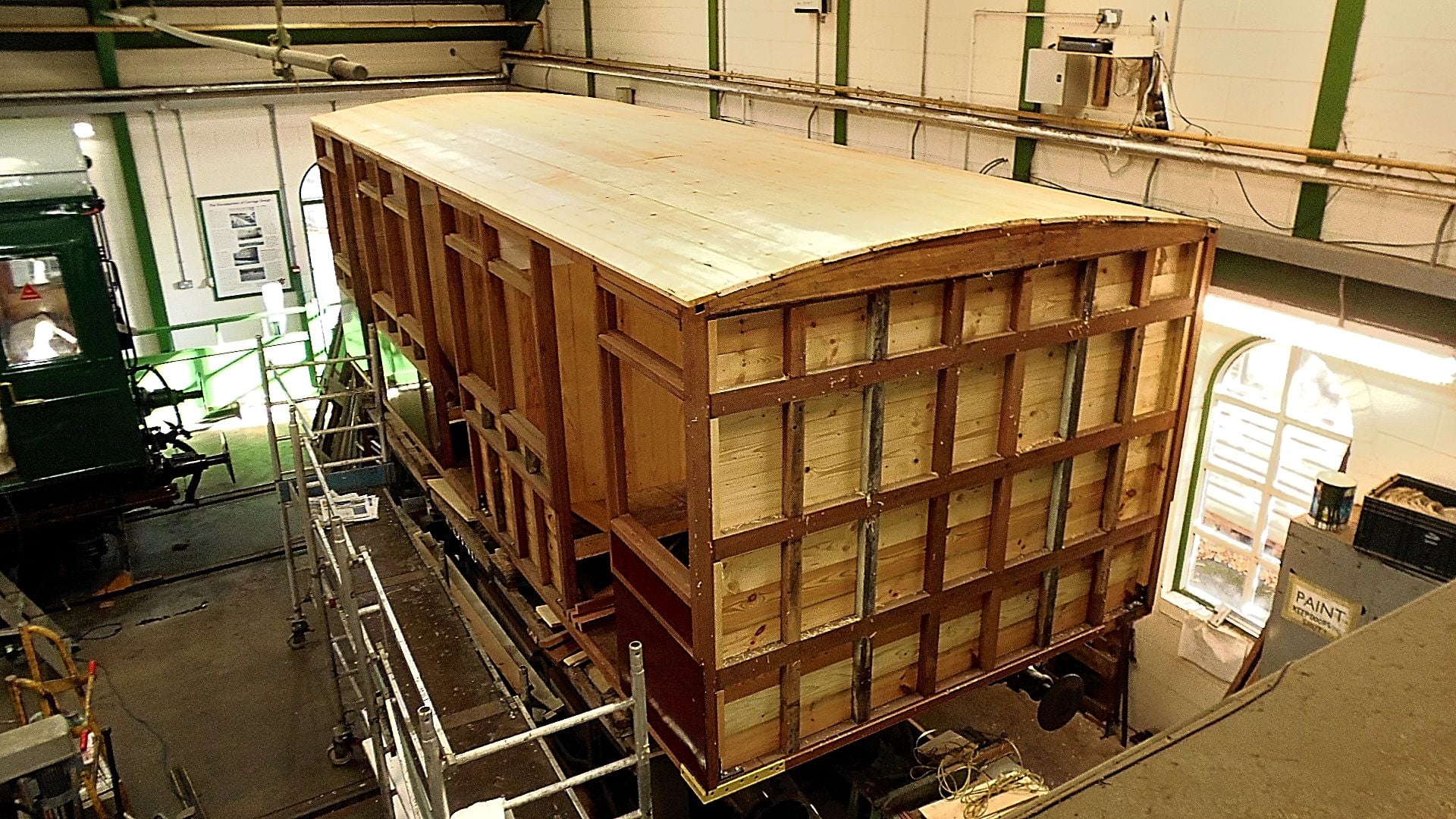 Despite delays caused by the Covid crisis, work has progressed steadily by an almost entirely volunteer team.  By early 2023, the body was substantially complete.  During 2022 the seats were reconstructed and upholstered in blue moquette.
The body will sit on a specially designed wooden glue-laminated underframe. Work on this will begin in mid-2023 and body and underframe should be united later in the year.  It is hoped No 21 will join its sister in revenue-earning service sometime during 2024.
Future restoration projects
The railway also owns four further carriage bodies that we aim to restore, with the eventual aim of having a complete train from this era.
While we are extremely fortunate to still have these historic carriages, no brake coaches have survived.  It is therefore intended that our next project after No 21 will be to build a replica brake coach, which will mean that, in a few years' time, we will be able to run a short three coach train of Oldburys, thus portraying yet another era of Island Railway history.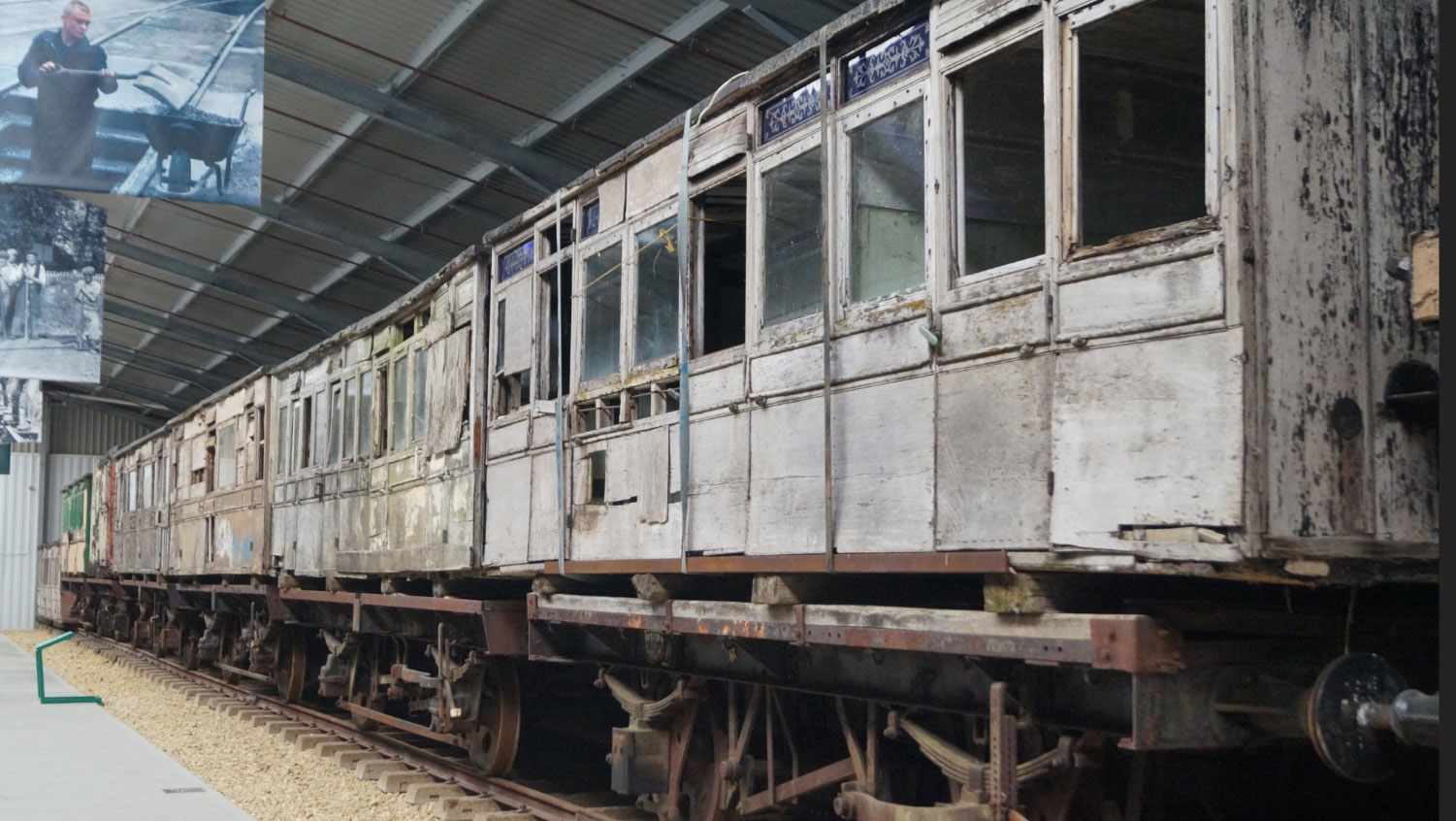 Unknown number (from 5-8 batch), Four-compartment Second Class, Built 1864
Number 35?, Four-compartment Second Class, Built 1875
Number 38, Composite with First and Second Class compartments, Built 1882
Number 39, Four-compartment Second Class, Built 1882
See more about our grounded carriage bodies HERE
Oldbury Carriage video
Join our Train Story lead guide, Roger Fruen, as he introduces our Oldbury carriages.
Get involved as a volunteer
Volunteers are the very lifeblood of the Isle of Wight Steam Railway, and this certainly applies in our Carriage & Wagon workshop. We have plenty of jobs for metal-workers, carpenters, glaziers, painters and upholsterers. However, you certainly don't need any specific skills – there's work for almost anyone.
Please see our volunteers page if you're inspired to get involved.
Make a donation
If you'd like to support this worthwhile project, please consider making a donation towards the cost or restoring Oldbury No. 21