A special gala weekend featuring our Island heritage locomotives in action.
Celebrating the Ventnor West branch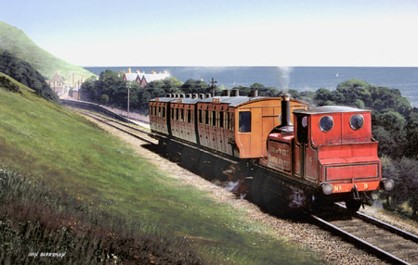 This event commemorates the 70th anniversary of the closure of the branch line to Ventnor West. This was the last railway built on the Island, completed in 1900, and featured relatively elaborate stations, a lengthy curved tunnel, and a spectacular scenic section through the Undercliff with stunning sea views. Built with the ambition of transporting visitors to the fashionable resort of Ventnor, passenger numbers never lived up expectation. The newly nationalised British Railways didn't waste any time in closing this loss-making line on 15 September 1952 - the first line on the Island to close.
Gala Weekend
This weekend features two historic Island locomotives in action. Look out for W11 (Newport), one of our 'Terrier' locomotives which were a common sight on the Ventnor West branch until the 1940s. These handing over the reins to the Class O2 locomotives, such as our own W24 Calbourne which will also be steaming throughout the weekend.
During the weekend there will be opportunities to ride aboard our push-pull carriages, veterans from the Ventnor West line. For this weekend only we'll operate in 'push-pull mode' with the carriages propelled between Ashey and Wootton. Stops at Ashey allow time for photographs.
On Saturday evening, Drewry Railcar 2 (Ryde Pier Tram) will be running, operating to services to Ashey and Wootton.
With a busy timetable there'll be plenty of action around the Railway.
Train Timetable - Saturday
Train Timetable - Sunday
Tickets
This event is sponsored by Wightlink

This event is part of the 150th anniversary of the 'Terrier' class locomotives