100 Years of the Southern Railway
Join us for a special gala weekend to celebrate 100 years of the Southern Railway. Until 1923 the Island's railways had been run by three independent local companies. The creation of the Southern Railway on 1 January 1923 led to many changes, including larger locomotives, the introduction of longer bogie carriages, and modernisation of the track and stations. With the Isle of Wight busy with holidaymakers, this was a golden era for the Island's railways, which we'll celebrate during this action-packed weekend.
Steam action
There'll be plenty of action on the line during this three-day event. Look out for a number of special services, including a photographic line-up, and double-headed trains.
Our flagship locomotive W24 Calbourne will be action, plus our resident 'Terrier' W11 Newport, both resplendent in their Southern Railway liveries, plus visiting 'Terrier' Fenchurch from the Bluebell Railway.
Visiting Locomotive Fenchurch
We're delighted that Fenchurch will be visiting the Isle of Wight Steam Railway for our gala weekend. This A1 'Terrier', built in 1872 has recently been overhauled and is now resplendent in 'Stroudley Improved Engine Green' (a yellow ochre). She'll make a dramatic and colourful sight when running on our line coupled to our Victorian and Edwardian wooden carriages.
Fenchurch is normally resident at the Bluebell Railway in Sussex, and we're very grateful for their support in bringing this popular locomotive to the Isle of Wight.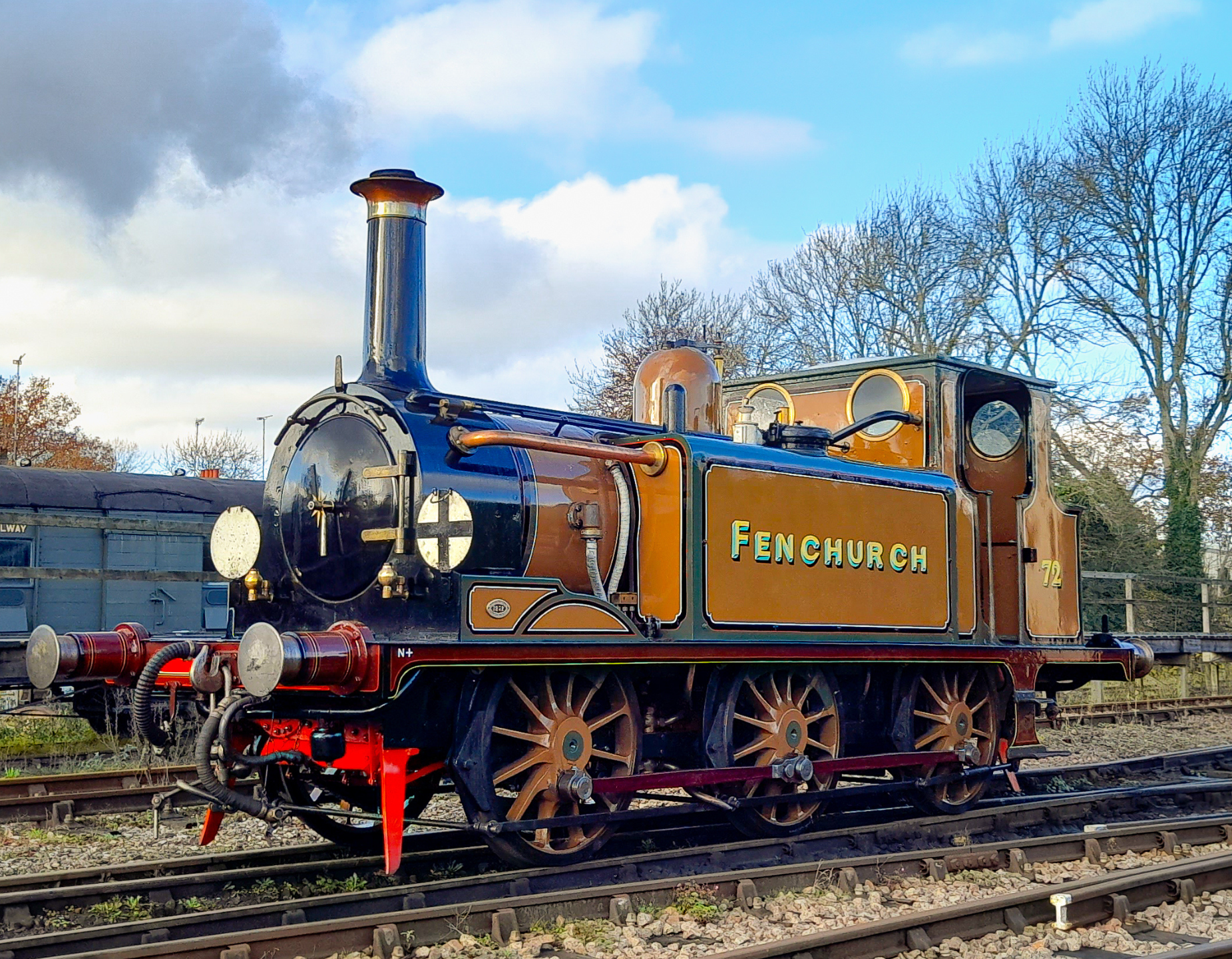 Photo: James Cummins, Bluebell Railway
Friday
Friday is Terrier Day with W11 (Newport) sharing duties with visiting locomotive 72 Fenchurch.

Saturday
A full day of action, starts with W11 (Newport) hauling our demonstration goods train along the full length of the line. During the day see our flagship loco W24 Calbourne with our Edwardian bogie carriages, 72 Fenchurch with our Victorian 4-wheelers, and W11 (Newport) with our popular push-pull set. Late in the afternoon see the two 'Terriers' come together for a double-headed special, with Fenchurch continuing into the early evening.
At 16:00 we'll line up all three locomotives at the end of Havenstreet station (the viewing area outside Train Story is a great vantage point) - allowing photographers to capture a classic shot.
Sunday
Another busy day with W24 Calbourne once again in charge of our bogie carriages, and the two 'Terriers' taking turns with our Edwardian 4-wheeled carriages. Look out for our heritage goods train, before another Terrier double-header rounds off the afternoon.
Throughout the weekend
Our other locomotives will be on display in our Train Story Discovery Centre, or around the station.
Catch our free birds of prey displays at 11:40 and 13:40 each day.
Our real ale bar will be open at Havenstreet station.
Regular services running on Island Line - an opportunity to travel on the new Class 484 units.
See our Southern Railway 100 exhibition around Havenstreet station - follow the trail and discover the influence of the Southern Railway on the Isle of Wight.
Photographers
See our Lineside Photography Guide for details of vantage points along the line. A popular spot is rural Ashey halt - why not alight here, then return on a later train.
Timetable - Friday
Timetable - Saturday
Timetable - Sunday
Tickets
Tickets allow unlimited journeys each day. All seats are unreserved.
This event is sponsored by Wightlink