The Isle of Wight Steam Railway has an enviable reputation for the quality of its carriage restorations. This requires a multitude of skills including metalwork, carpentry, glazing, painting and upholstery. At Havenstreet we have a dedicated Carriage & Wagon workshop; these facilities were funded largely by the Heritage Lottery Fund and opened by HM The Queen in 2004.
Regular maintenance ensures that our serviceable carriages, the oldest two of which date back to 1864, are fit and safe to carry passengers, whilst long-term restoration projects focus on increasing the size and diversity of the fleet. Over the years the Railway has acquired an impressive collection of grounded bodies which we are restoring for use on the line.
Recreating an 1864 Train
Upon opening in 1864 the Isle of Wight Railway bought coaches from the Oldbury Railway Carriage and Wagon Company. Remarkably a number of these carriages survive, and our long-term aim is restore a complete train from this era. 
The first restoration, coach 10, was completed in 2017 for the Great Rail Restorations TV series, hosted by Peter Snow. This can usually be seen in our Train Story Discovery Centre, but runs on the line during special events. 
The second Oldbury coach, number 21, is now being restored in our Carriage & Wagon workshop. After withdrawal from passenger service, the body was sold and became a garden shed near Yarmouth, and was donated to the Railway in 1980. This carriage has three equally sized First Class compartments, and when complete, will be a splendid addition to our fleet.
A principle of carriage restoration is to salvage and reuse as much original material as possible, even if timber ends up being used somewhere other than in its original location. Our skilled craftsmen had to rebuild much of the wooden frame to ensure that this was structurally sound. 
When complete the body will sit on a wooden glue-laminated underframe that was ordered when we rebuilt coach 10. We still need to purchase (or make ourselves) most of the metal components. Hopefully IWR First 21 can join its sister in revenue-earning service in 2022. 
Restoring our SECR Carriages
The Railway has a three South Eastern & Chatham Railway (SECR) vehicles. Bogie coaches are much longer – generally about 60ft – and have a sprung, four-wheeled 'bogie' at each end. As well as offering greater capacity, this type of carriages can negotiate curves at higher speeds and offer a smoother ride for passengers.
Sadly, years of being exposed to sea spray and the salt-laden air along Ryde Pier caused significant corrosion, leading all three carriages to be withdrawn from passenger service. An appeal was launched to raise the £200,000 needed to return them to traffic. Key to this restoration was replacing the unusually-shaped solebars, the main steel components that run the length of each side of the underframe. After much searching, a company in Germany was identified which could supply steel to the correct profile using a hot extrusion process.  
To date we have completed the restoration of SECR Brake Third 4149, which re-entered service in May 2019.  Our next carriage, Composite 6375 is well advanced and is due to enter traffic in 2020. This coach has both First and Third Class compartments including a large saloon in the centre of the vehicle.  
Our third SECR carriage, SECR Brake Third 4145, is currently on display in Train Story. Its refurbishment is unlikely to begin until the first of our London, Chatham & Dover Railway bogie brake coaches has been restored.  
Our next Restoration project
Our next bogie coach to be restored will be 5-Compartment Brake Third 4115. This was built in 1898 by Brown, Marshall of Birmingham for the London, Chatham and Dover Railway, one of five of which were destined for service on the Isle of Wight. 
After withdrawal in 1948 it was moved to Ash Hill Farm at Atherfield where it was used as a farm store and animal shelter. 4115 was the first carriage body to be rescued by the Wight Locomotive Society, being moved to Havenstreet in 1975. 
We commenced a lengthy restoration of this coach in 2020. When complete this carriage will fill an important gap in our collection, meaning that we'll have examples from three of the pre-grouping companies.
Get Involved as a Volunteer
Volunteers are the very lifeblood of the Isle of Wight Steam Railway, and this certainly applies in our Carriage & Wagon workshop. We have plenty of jobs for metal-workers, carpenters, glaziers, painters and upholsterers. However, you certainly don't need any specific skills – there's work for almost anyone. 
Please see our volunteers page if you're inspired to get involved.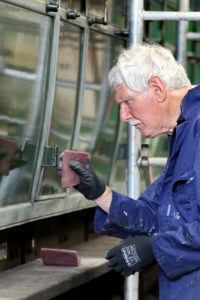 Make a Donation
Our carriage restoration projects have been made possible by generous donations from our visitors and supporters. 
If you feel able to support these projects with a donation here.