Our Edwardian bogie carriages were built between 1911 and 1924  Their design, with a longer body and swivel 'bogie' at each end, provided a smoother and faster ride.
This type of carriage was transferred to the Isle of Wight in the 1930s and 1940s and remained in service until 1966. Six carriages were preserved by the Isle of Wight Steam Railway, with a seventh rescued from the mainland.
4168 LBSCR 5-COMPARTMENT BRAKE THIRD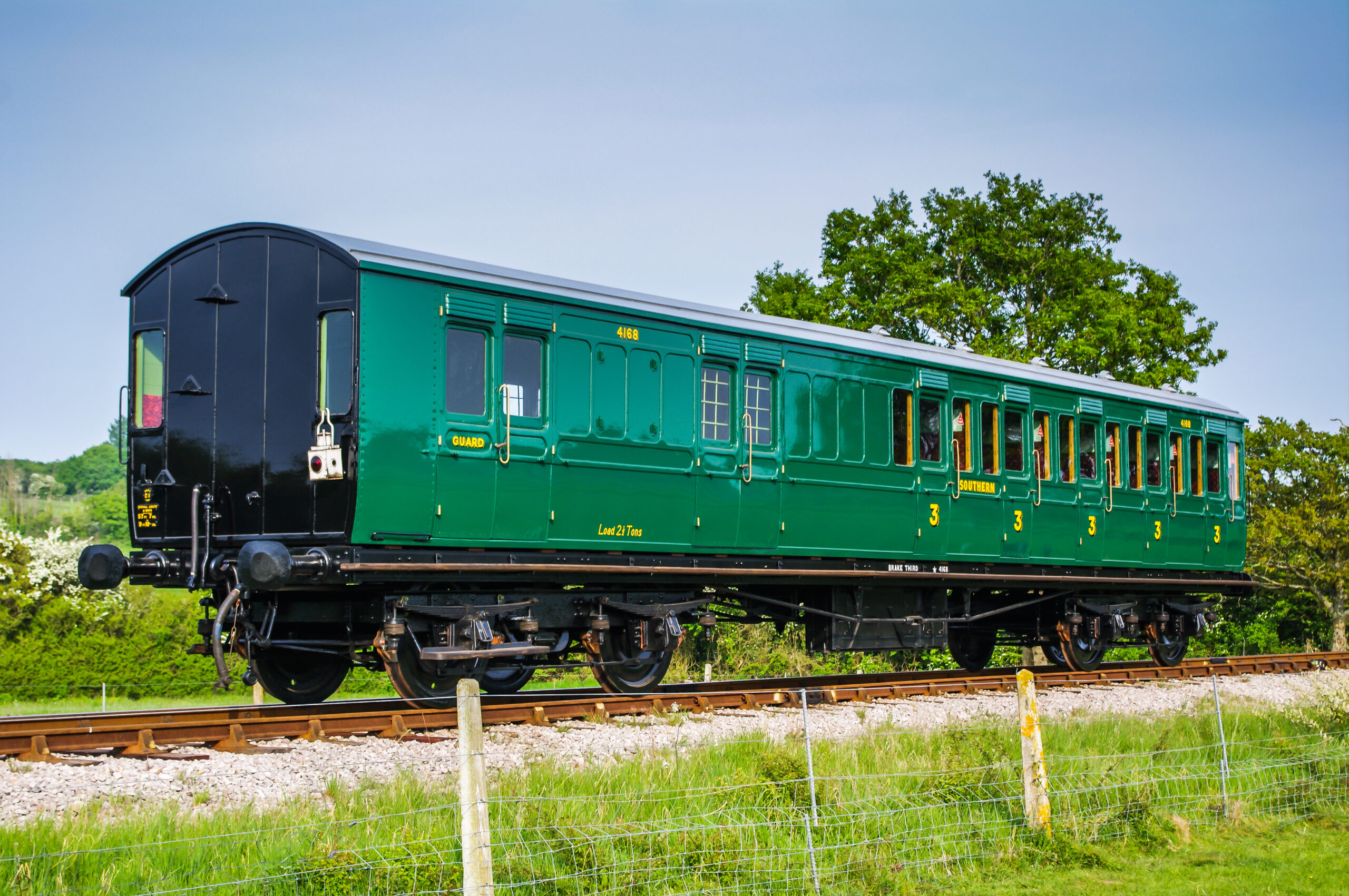 The underframe of this carriage was built in 1905 and the original vehicle became an ambulance car during the First World War. After the war the body was scrapped and a new one constructed. Following its transfer to the Island in 1938 it was used on the Bembridge branch until 1947 and later on the 'Main Line'. By the end of steam 4168 was regarded as a spare coach and finished its days of British Railways service as part of Set 500 in the final steam-hauled service.
After preservation, 4168 was, for many years, the only serviceable brake coach on the Steam Railway and was formed into every passenger train. Due to a severely corroded underframe it was withdrawn from service in 1990 and was stored unserviceable until 2007 when work began on restoring the carriage. 4168 returned to traffic in May 2011, in time to take part in the IWSR 40th Anniversary Gala.
2416 LBSCR 9-COMPARTMENT THIRD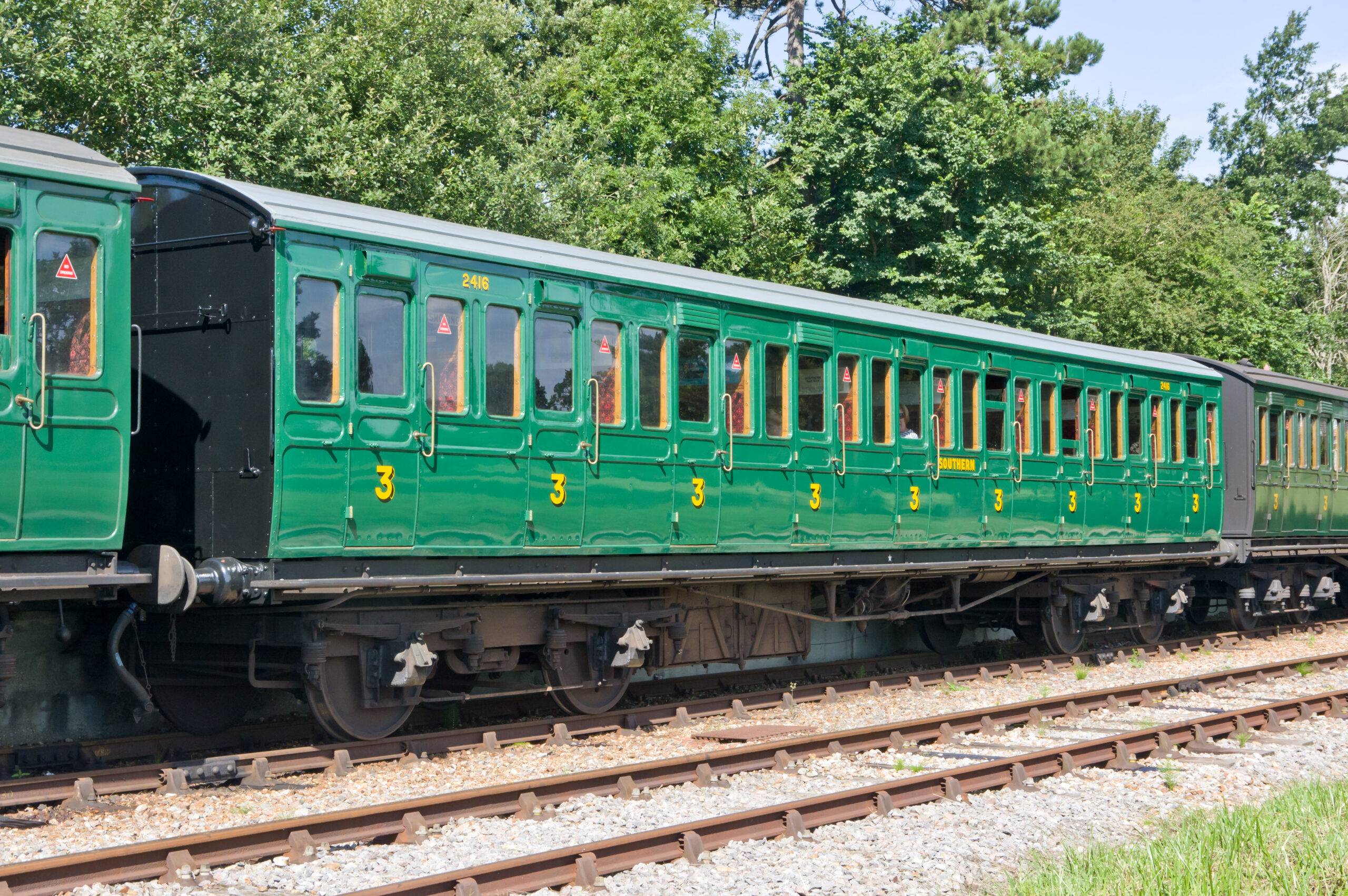 2416 was built as a six compartment Brake Third and ran in this condition until selected for service on the Isle of Wight, when it was converted to a Full Third. An extra three compartments replaced the Guards compartment at the Wootton end of the coach. 2416 was formed into the final steam working from Shanklin on 31st December 1966.
4145 & 4149 SECR 4-COMPARTMENT BRAKE THIRD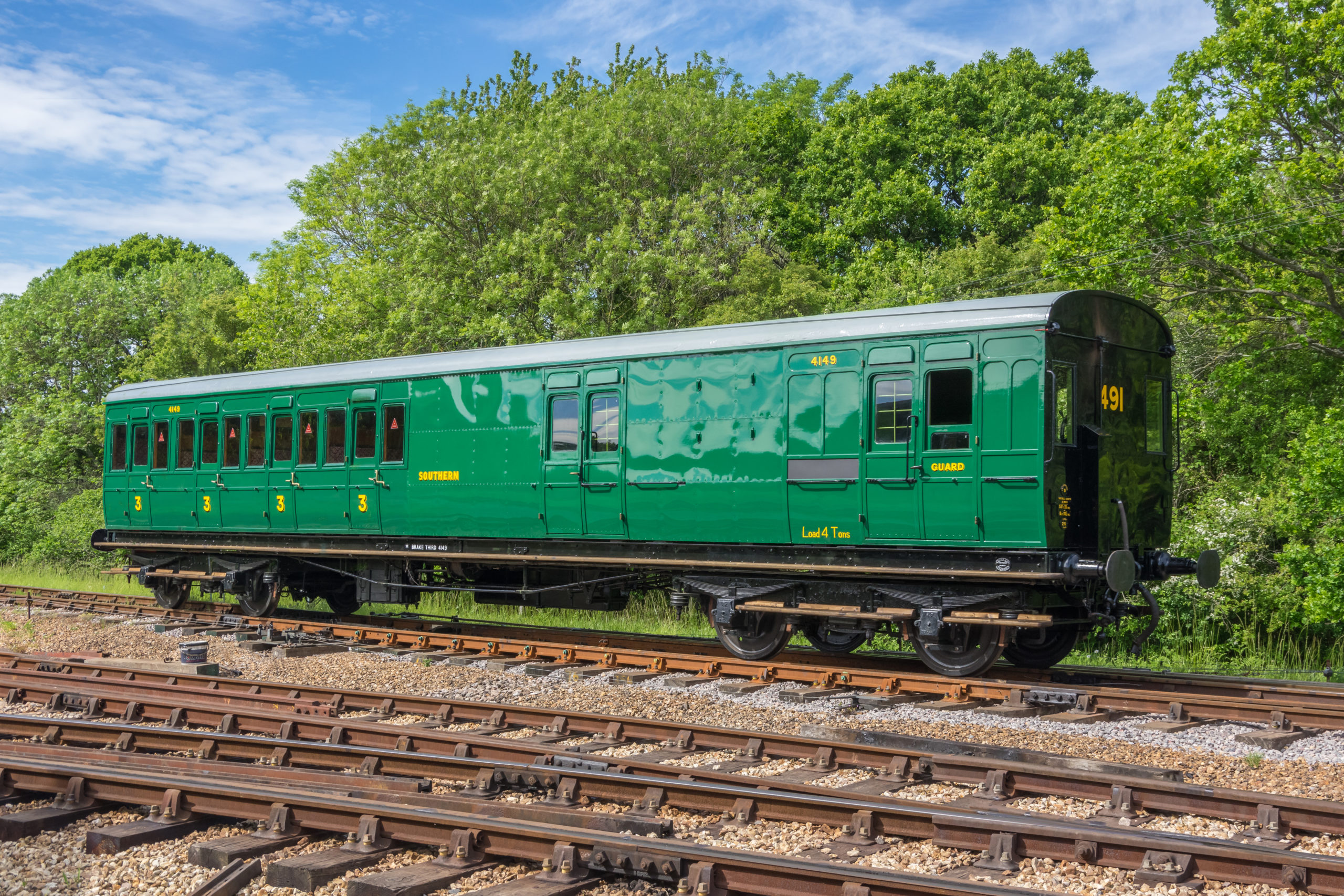 These two carriages were built as 7 compartment Brake Composites with six Third and one Second Class compartments in addition to the Guard/Luggage van. The roof over the van was raised to form an observatory or 'birdcage', which had to be removed when converted for use on the Island because of the restricted loading gauge.
Conversion also involved the loss of three passenger compartments in order to provide a large luggage van, required to cope with the large volume of luggage belonging to passengers on the heavily loaded summer holiday trains.
Following purchase by the Wight Locomotive Society the Chatham Brakes were moved to Havenstreet along with the rest of the railways rolling stock in January 1971.
At Havenstreet both coaches became sleeping and mess vans for the volunteer staff of the railway, a role they fulfilled for more than 10 years. Following thorough restoration both coaches were returned to passenger service. Both carriages have since required extensive underframe repairs. 4149 is currently back in service, which 4145 is a static exhibit in our Train Story Discovery Centre.
6349 LBSCR 8-COMPARTMENT COMPOSITE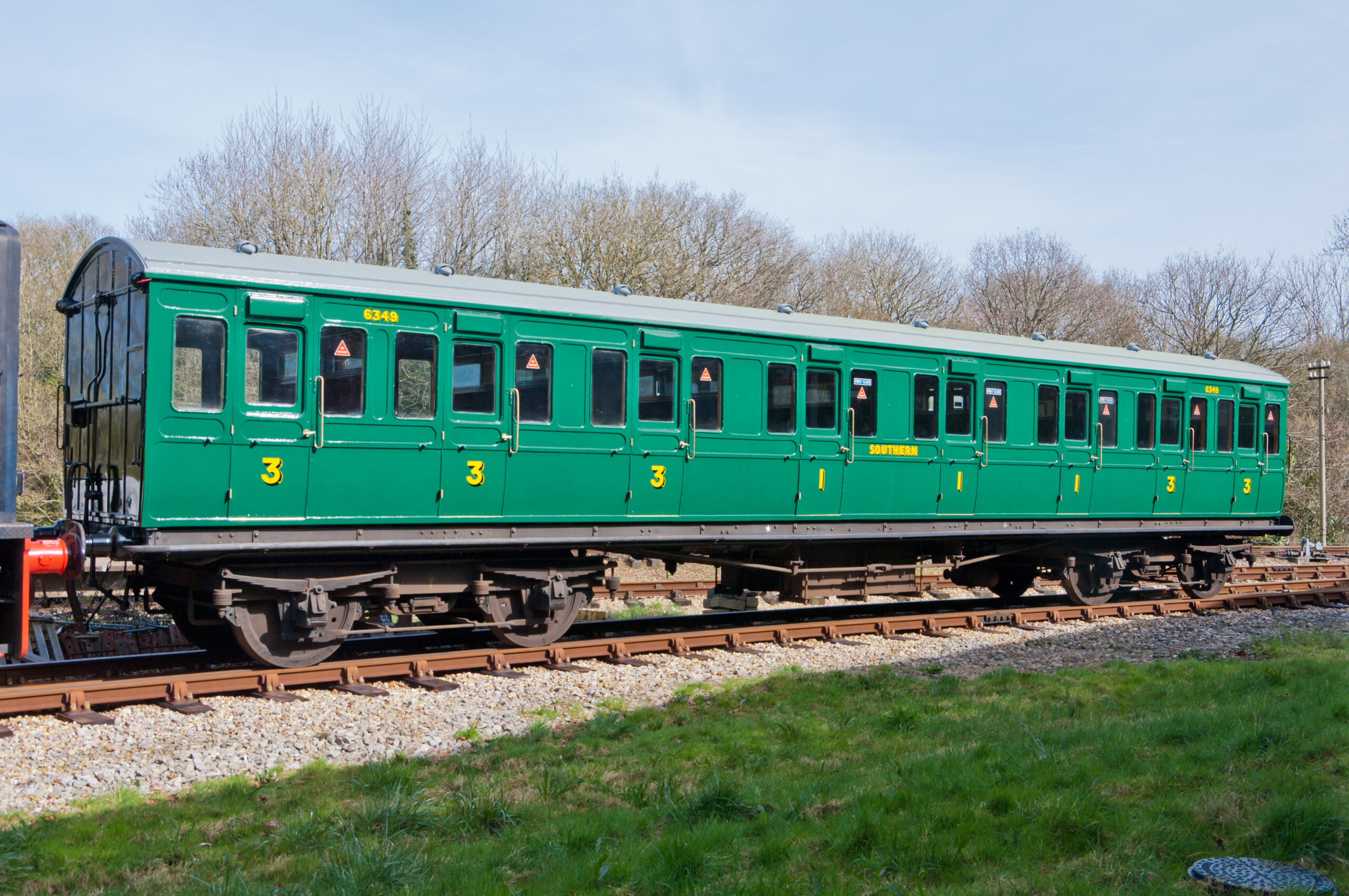 Built by the Southern Railway to a London Brighton and South Coast Railway design, 6349 started life with four First and four Third Class compartments. For Island service one of the Firsts was downgraded to Third and may be recognised by its generous width when compared to the other Thirds.
6349 was moved to Newport in September 1966 and stored with other surplus coaches. The coach was then reserved for preservation by the Westerham Railway Museum. This scheme foundered, but through it 6349 had survived long enough to ensure that it was included in the selection of carriages saved by the Wight Locomotive Society.
6375 SECR SALOON COMPOSITE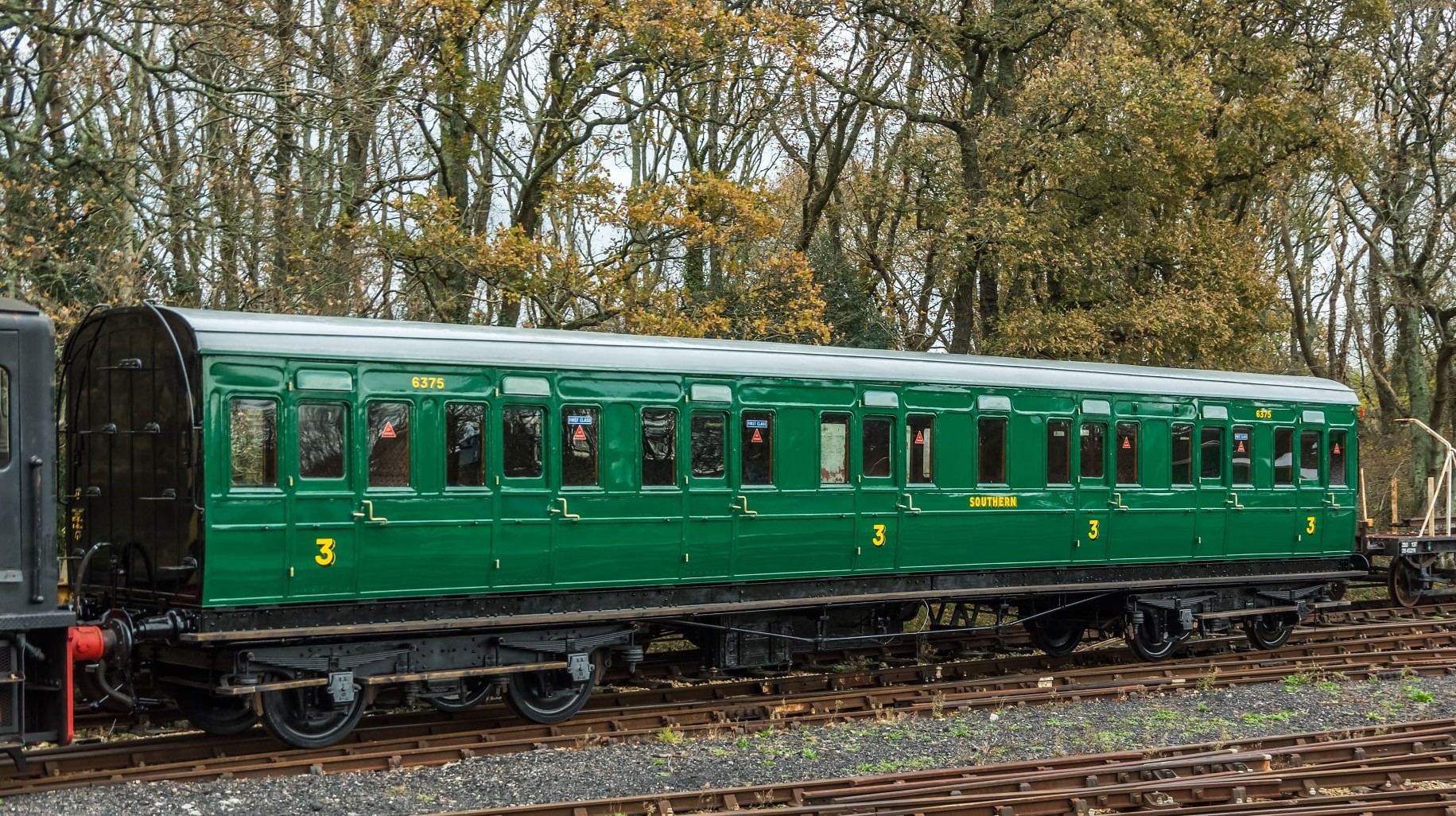 When new 6375 had three Second and four First Class compartments, two of the First compartments having access to individual lavatories. When the coach was selected for transfer to the Isle of Wight some remodeling was required to suit it to its new role. The two lavatories were removed and, with the adjacent compartments, formed into a large saloon. On the final day of British Railways steam services on the Isle of Wight 6375 formed part of the last train. Once preserved, the carriage ran on the line for many years.
6375 has recently completed a lengthy overhaul to repair its corroded underframe, and will be back in service in early 2021.
2403 LBSCR 8-COMPARTMENT THIRD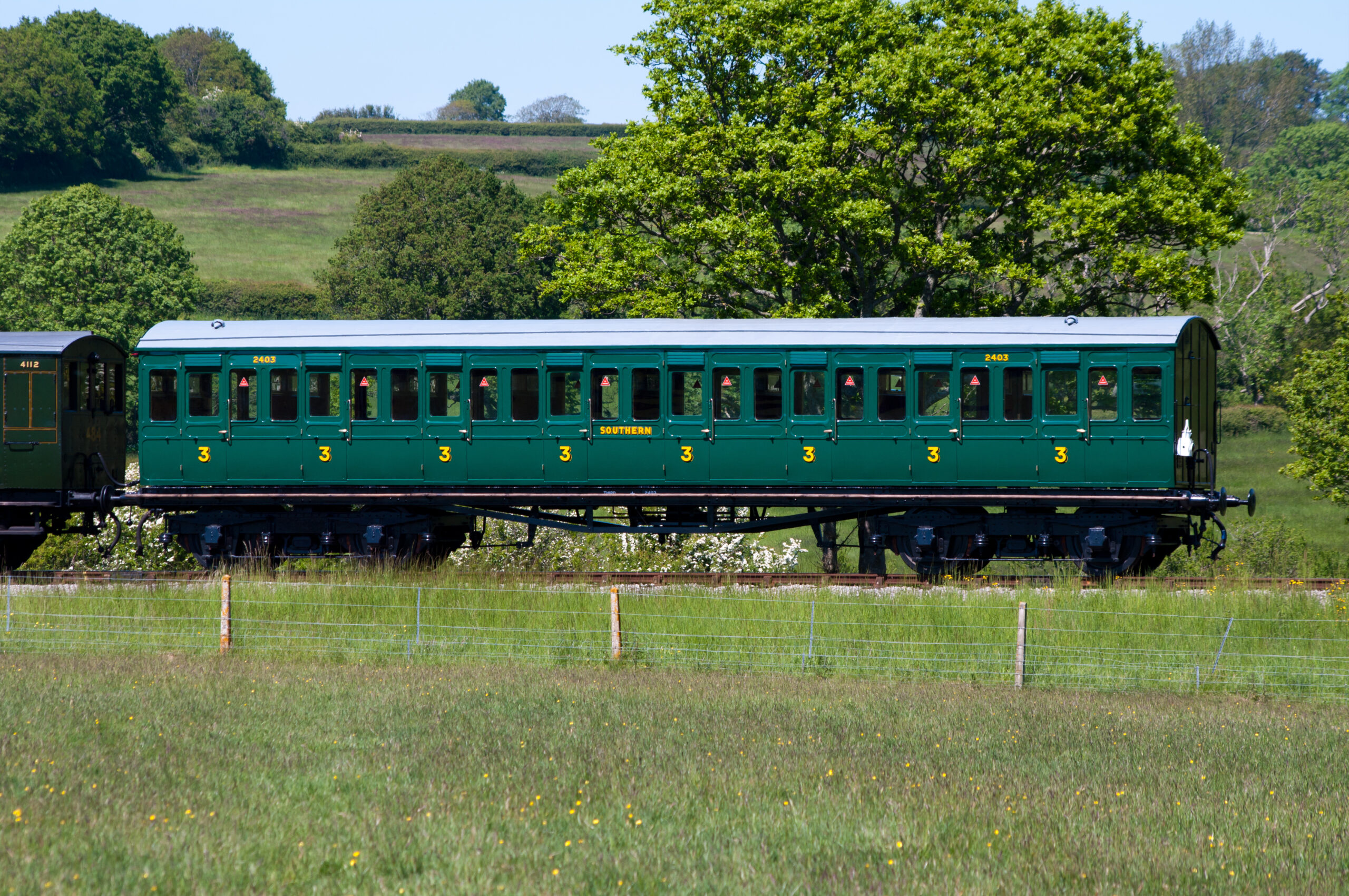 This is the only non-Island carriage in the Isle of Wight Steam Railway collection. 2403 is an Island series number, being the next vacant after the last transferred London, Brighton and South Coast Railway carriage. Two identical coaches did run on the Island and it is for this reason that it has found a place at Havenstreet.
Its early history has not yet been thoroughly researched although it is known that it was grounded at Runcton, near Chichester in 1931 and built into a bungalow. An appeal raised sufficient money to have the body transported to the Island in 1991. Extensive work was required to the body and its donor underframe.
During restoration the opportunity was taken to enlarge the London end compartment to allow space for up to six wheelchair users. 2403 returned to service in 2012 and remains in regular service on the line.
Video
Join Train Story lead guide, Roger Fruen, for a guide to bogie carriages.