Built: 1878
Wheel arrangement: 0-6-0 T
Current status: In service
W11 can lay claim to being the most famous 'Terrier' of them all. She emerged from Brighton Works in 1878 and was originally numbered 40 and named 'Brighton'. She was selected by her designer, William Stroudley, to represent the London, Brighton and South Coast Railway at the Paris exhibition of that year. She made many trial runs in the Paris area in order to demonstrate the effectiveness of her Westinghouse air brake system.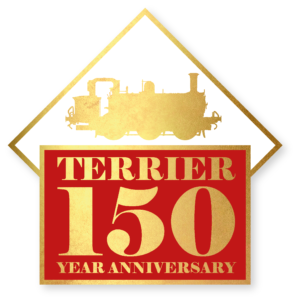 She was placed on display and awarded a gold medal for her design, workmanship and finish. On her return to England her tank sides were inscribed 'Gold Medal, Paris Exhibition, 1878'.
She spent her early working life in the London area, based at Battersea Shed, followed in 1901 by a spell assisting with sea defense works at Newhaven. In 1901, having been declared surplus to requirements, she was purchased by the Isle of Wight Central Railway. As part of the deal she was overhauled at Brighton Works, repainted in IWCR livery and given the number 11. She was transferred to the Island on 8 January 1902, arriving at Medham, near Cowes.
Passing into the ownership of the Southern Railway in 1923 she was renumbered as W11 and in 1930 was given the name 'Newport'.
In April 1946 she was taken out of use and stored, being shipped back to the mainland on 22 February 1947, for overhaul at Eastleigh Works. Ownership changed again in 1948 to British Railways and she continued to be active along the South Coast working the Hayling Island branch, the Kent and East Sussex Railway and spells at Brighton, St Leonard's and Newhaven. Final withdrawal from service came on 27 September 1963, following which she was purchased by Sir Billy Butlin for display at one of his holiday camps.
Repainted in a yellow livery, reminiscent of her original Stroudley 'Improved Engine Green' paintwork, she moved to North Wales and was displayed at Pwllheli Holiday Camp until 1973. Sir Peter Allen, a president of the Wight Locomotive Society at the time, had long hoped that a 'Terrier" would be able to return to the Island and was able to persuade Sir Billy Butlin to place W11 on a ten year loan to the Society.
She left Pwllheli on 25 January 1973, arriving on the Isle of Wight two days later and moving to a new home at Ryde Works. It had been hoped that she would be restored at Ryde but problems arose and two years later, she was moved to the base of the Isle of Wight Steam Railway at Havenstreet.
Cosmetic restoration as Isle of Wight Central Railway No 11 was soon complete and she remained on static display until her purchase from Butlins was completed in July 1976, when the long task of restoring her to full working order was started. Work was painfully slow, proceeding as fast as manpower, finance and workshop facilities would permit. Return to service was finally achieved in 1989 and she proved to be a powerful, economical locomotive more than capable of hauling heavily loaded trains on the steeply graded IW Steam Railway. Following periods in British Railways livery as 32640 and Southern Railway black livery as W11 'Newport' she was withdrawn from service for overhaul on 24th August 2002.
In November 2007 the Isle of Wight Steam Railway announced that a new boiler for W11 had been ordered from boilermaker Israel Newton at a cost of approximately £70K. Following an extensive overhaul she returned to traffic in 2014.
W11 is currently in regular service, displayed in early Southern Railway livery without 'Newport' nameplates.
Click HERE to see the next locomotive history. Click HERE to return to the main locomotives page.