Built: 1951
Wheel arrangement: 2-6-2 T
Current status: In service
41298 is an example of the Class 2 2-6-2 tank locomotive designed for the London, Midland and Scottish Railway by George Ivatt. Construction of the class began in 1946 with No. 1200. Ten locomotives were completed before nationalisation of the railways in 1948, the remaining 120 being built by British Railways.
Intended for light duties, the design incorporated labour saving features usually found on larger engines of the time, including hopper ashpans and rocking grates. The side tanks have a capacity of 1,350 gallons, and the bunker, which is sloped inwards to give a clear view to the rear, has a ladder giving access to the coal space, a feature directly influenced by American practice.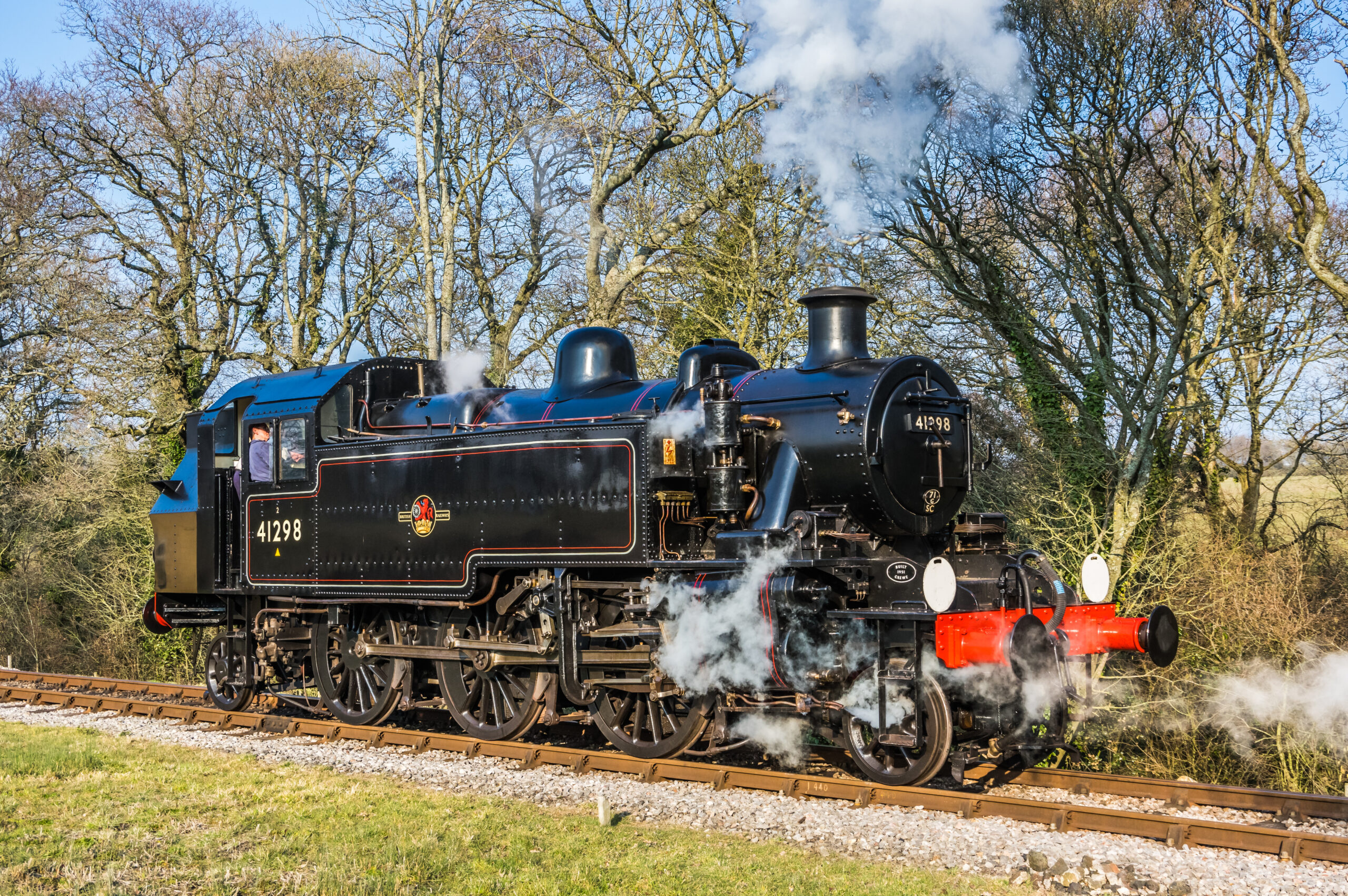 41298 was built at Crewe Works in 1951. Its first shed was Bricklayer's Arms on the Southern Region where it was mainly used on empty stock workings into and out of Victoria. In 1953 41298 was transferred to Devon for work on the branch lines around Barnstaple. Ten years later she was moved to Weymouth for employment on boat-train and local passenger turns.
A final move took place in October 1966, this time to Nine Elms where her last few months in British Railways ownership were spent on empty stock workings as a station pilot. Steam working finished on the Southern Region in July 1967 and 41298 was purchased directly from BR by the Ivatt Locomotive Trust. 41298's first home in preservation was at the Longmoor Military Railway in Hampshire.
When the military railway closed the locomotive was moved to Quainton Road, Buckinghamshire. It arrived on 12 December 1970 and a heavy overhaul commenced.
In 2008, 41298 was moved to the Isle of Wight arriving at Havenstreet on 28th November. In 2009 The Ivatt Locomotive Trust generously transferred ownership of 41298 and their other locomotives to the Isle of Wight Steam Railway.
After a complete overhaul, 41298 hauled her first passenger trains on the line during September 2015, and remains in regular service.
Click HERE to see the next locomotive history. Click HERE to return to the main locomotives page.